Spring Restoration Work in 2009
We had a few stones left from the major work done in 2008 that we are still working on in 2009. Monument work is weather dependent because we need conditions to be dry enough to work with the monument adhesives and we need the soil dry enough to get equipment close but not so dry that the ground is hard to work with. That means catching a few time windows in the spring or fall when the work crews, weather, and equipment all line up.
The monuments left for repair from last year included those with loose tops, but with bases that were so tilted we didn't want to attach the tops until the base was level. On two different days we leveled the bases on seven monuments and then had Oregon Memorials out again to re-assemble and adhere them together. An eighth stone, a marble column for David Fletcher, is still laying down because the ground was too soft in that area for the equipment needed to lift such a large base and monument. The large Langston stone that was vandalized in early 2008 was removed for repair by Oregon Memorials.
Here are some photos of the work done this spring: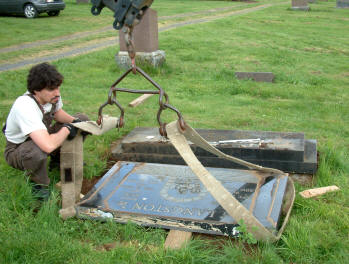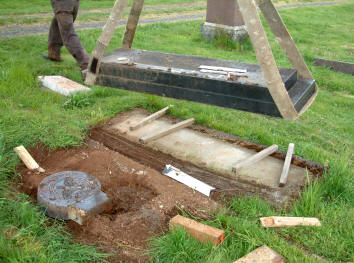 Removing the Langston stone where we found the missing Quailhurst medallion under the monument.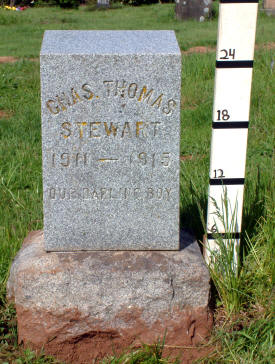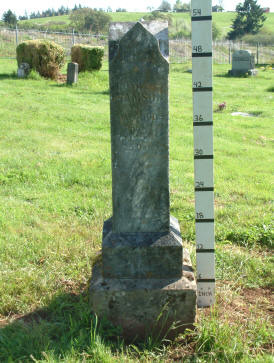 These two stones, Charles Thomas Stewart and Royal & Ellen Samson, were both
very tilted and loose on their bases. They are both straight and secure now.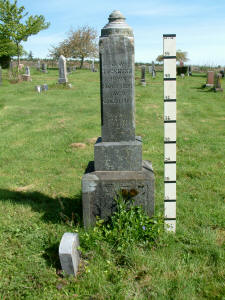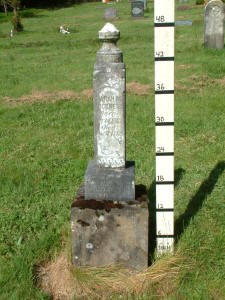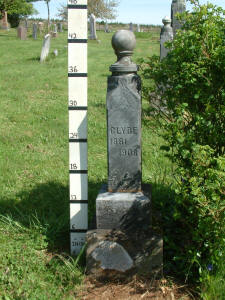 These three stones are in a row together and were seriously tilted and loose, having been toppled in the past.
They include the monuments for J.W. & Permelia Tuckness, the Tuckness children, and Clyde, Lester, & Teddy Baker.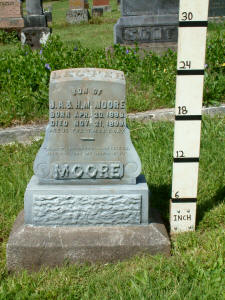 The Lester Moore monument is one of only two zinc monuments in the cemetery.
It was broken off its base by vandals and was secured last year but not sealed,
so it still attracted yellow jackets who were nesting inside it. It has now been
completely sealed so the yellow jackets will have to find somewhere else.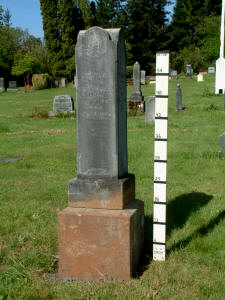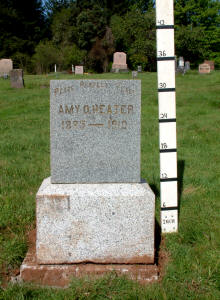 These two stones, one for the George Bailey family and one for Amy Heater both had missing
bases that were found in the brush when the west end of the cemetery was cleared last summer.
They have not been cleaned yet, but the bases have been installed and the tops secured.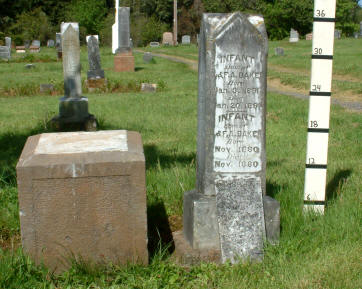 This Baker monument also had a missing base that was found last summer, but unfortunately
the marble column had just been adhered to the concrete pad last spring, not knowing
that a full base existed. The base is sitting next to it while we contemplate what to do next.

Thank you to everyone for your generous donations
that help make this restoration work possible!